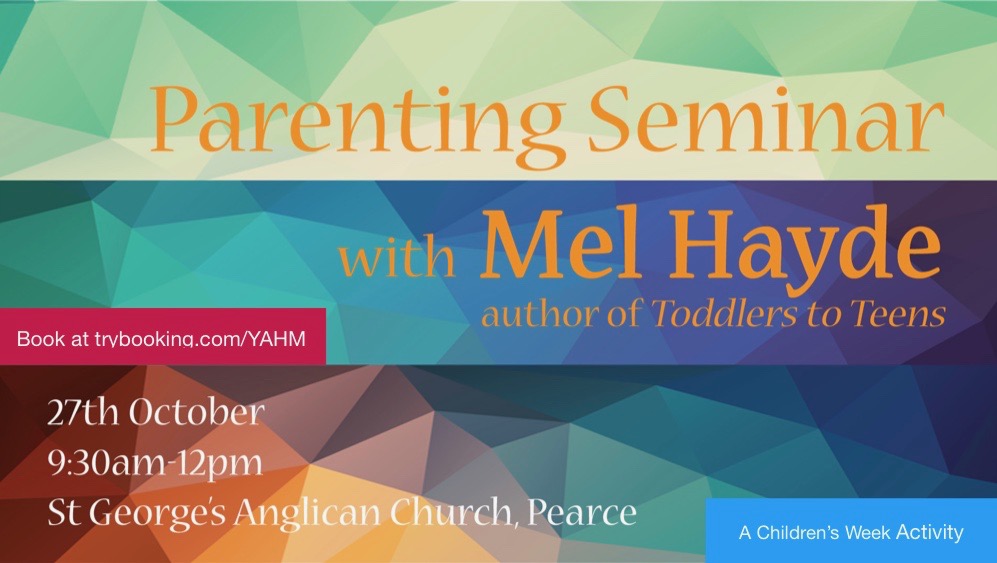 A practical and positive parenting seminar aimed at helping Mums, Dads and Grandparents of children aged 0-5. The seminar will be led by Mel Hayde, who is a mum to three, a teacher, author and speaker. She has a passion for helping carers enjoy the toddler years.
Tickets $20 per family.
Child minding and Morning tea will be provided, bookings essential.
Middle East Dynamics – a different perspective
Speaker: Richard Menhinick

Saturday 3 November 2018, 7:30 pm

St George's Anglican Church, 67 Pethebridge St, Pearce, ACT

Admission: $10

Presentation followed by dessert & coffee
A presentation on the dynamics of arguably the most violent and mis-reported region on Earth.
This presentation requires the listener to discard much that western media, our Government, the US and our strategic papers and actions say about the Middle East. Instead I ask you to look at it from a different perspective, that of the human condition.
It may not answer the problems, but it will provide a perspective which I think will challenge people.   …….read more