About Us
Our Lord Jesus Christ leads His church as our head and chief shepherd. Jesus builds his church through God's Word by His Holy Spirit.
The leaders in our church work in partnership with the Parish Council to help the ministers (every member) to serve in our church life and the wider community.
Rector  – Rev Jason Clift
Jason and his wife Meredith have been at St George's since mid 2014. Jason is the pastor-teacher overseeing the congregations on Wednesday and Sunday Mornings. Meredith works alongside Jason coordinating ministry with children and youth, as well as community outreach.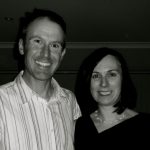 Associate Minister  -Rev David Piok
David came from Southern Sudan. He was ordained in Canberra in 2007 and serves the Dinka congregation on Sunday afternoons.
We uphold the Christian faith received from the early, apostolic church, as set forth in the three historic Creeds (of which the Anglican 'Thirty-Nine Articles' are a general exposition). This faith is founded in the Scriptures of Old and New Testament as our ultimate rule and standard for life. We emphasise the grace of God (his unmerited mercy) centred on Jesus Christ as revealed in the Bible. We are therefore committed to obeying Christ in making disciples, following his teaching, and administering the sacraments of Baptism and Holy Communion. As we live out this faith, in the power of the Spirit, we share the good news of the kingdom of God.
When we gather as a church, we may re-affirm this faith in the form of a creed.
Our vision as a church is to show Christ in the community, so that Jesus is honoured as Lord.
We believe Jesus Christ is God's King, who was crucified for our sin and gloriously resurrected as Lord of all the nations. We are promised that he will come to judge the world and that now he offers forgiveness and new life to everyone.
Our history dates back to 20 August 1967, when a small congregation of 8 people gathered at the Pearce Primary School with Bishop Cecil Warren in this newly created Provisional District of St George's, covering Pearce, Torrens, Mawson and Farrer.