Our Vision
The defining reality for our vision is that Jesus Christ is God's King, who was crucified for our sin and gloriously resurrected as Lord of all the nations. We are promised that he will come to judge the world and that now he offers forgiveness and new life to everyone. Therefore…
Our vision as a church is to show Christ in the community, so that Jesus is honoured as Lord.
To achieve this vision, the purpose of our ministries is focused in three parts: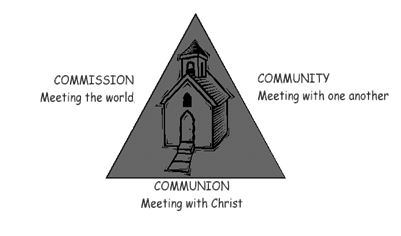 Communion – Meeting with Christ
We seek to:
– Honour God in our times of corporate worship
– Daily deepen our personal relationship with Jesus, becoming more like him
– Anchor all we believe, teach and do on the firm foundation of God's Word
– Permeate all in prayer
– Be sensitive and obedient to the leading of the Holy Spirit
– Relate to God in His holiness and wholeness as Father, Son and Holy Spirit.
Community – Meeting with one another
We seek to:
– Encourage a strong commitment to regular gathering together as the body of Christ
– Welcome all comers
– Encourage all to participate in small groups
– Disciple believers to maturity
– Celebrate all of life, serving and caring for one another as a loving family
– Share in ministries as the Spirit equips
– Honour God in the use of the money, time, talents and possessions entrusted to us
– Value our Anglican heritage and membership of the Anglican communion
Commission – Meeting with the world
We seek to:
– Engage evangelism, proclaiming the good news of Christ the Saviour and Lord of the world
– Affirm and equip individuals to minister and witness to Christ in all situations through word and deed
– Partner and support others in mission – locally, nationally and internationally
– Demonstrate concern for society and the environment through individual and corporate action
– Participate in developing and presenting Christian responses to social and ethical issues.