Small Groups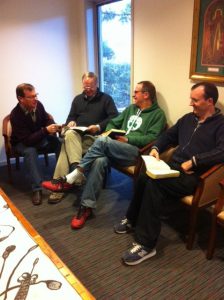 At St George's we have a range of Small Bible Study Groups that meet with typically between 6 to 12 members. Each group aims to read and apply God's Word to encourage one another to live out our faith. The groups are also a wonderful way for members to get to know each other and to be part of a supportive network.
We have day and night groups who have been meeting regularly for some time. Other groups meet for a particular purpose, such as a training course. Small Bible Study groups incorporate time for prayer, reflection on the Bible, fellowship, service and mutual care. Most groups meet weekly.  All groups are open to new members.
A small group provides a good opportunity to love and be loved, to know and be known, to serve and be cared for. This may help the rough edges be knocked off as we conform more and more to the image of Christ in our lives.