Pearce Playgroup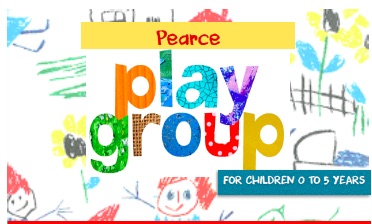 Thursday 10am:  (weeks 2 – 9 during each school term)
Cost:  $2 per session or $12 per term
We are a friendly group of mums, dads, grandparents and carers of children aged 0 to 5 years old. New families are welcome to join us.
On a typical morning, the children enjoy free play, followed by a time of singing, dancing, stories and a craft, all centred around the theme of the day. Parents/carers are encouraged to join in. Other activities include parachute games, bubbles and bike riding outside in our fully fenced courtyard garden.
Families are encouraged to bring a piece of fruit for the children to share. Morning tea is provided for the adults.
Pearce Playgroup is a ministry of St George's Anglican Church. Our program includes simple songs and stories that teach children about God.
helpers have a WWVP Card
a nappy change table is located in the disabled toilet
the outdoor play area is fully fenced
nut free zone
If your child has an allergies or special need please contact Meredith via email: meredith@stgs.org.au