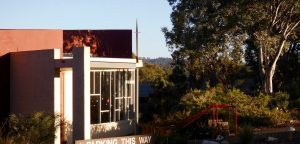 I'm new – what do I have to do?
Everyone is very welcome to visit. Just come as you are. Visitors sometimes come simply to check out what happens at church, and that's fine with us! There is no need to dress up or wear anything special for church.
How do I find out more about Jesus and the Christian faith?
The best place to start is to read Mark,  biography of Jesus' life in the Bible.  It is also helpful to come along to a short course to explore with others the big story of the Christian faith about Jesus. No prior knowledge is assumed, and you can ask any question you like. A good video summary and answers to questions is available on the Christianity Explored website.
Another excellent site that provides answers to frequently asked questions is Christianity.net.au
What happens at a church service?
Church meetings are a bit like the family gathering of God's people. They go for about 1.5 hours, including morning tea.  When we meet we:
Hear from God: We want to listen to God speak, so the Bible is read aloud from the front and a speaker spends time exploring the things we read together and how they apply to our lives.
Talk to God: We spend time talking to God in prayer, usually led by someone out the front.
Sing together: We sing songs that remind us about who God is and what he's done.
Food, Coffee and a Chat: After each meeting we stay around to enjoy time together along with a cup of tea or coffee. It's a chance to meet new people or to ask the speaker any questions.
Other Things: Some weeks we say a 'creed' together, which sums up some of the big and important things Christians believe. Sometimes we share the 'Lord's Supper' (Holy Communion) together, which is about remembering Jesus' death for us, and what we do is explained at the time.
You are our guest, which means that you won't be put on the spot or asked to do anything you are uncomfortable with.
What if I don't believe all this yet?
You can take your time to explore about who Jesus is, and what it means to have a relationship with God. There is opportunity to ask questions and chat over tea or coffee. We can also provide resources to help you. Our church aims to be a place where people can check things out, whether sceptics or committed believers, so everybody is welcome to come along – yes, even you!
How can I get more involved in the church?
We would love you to be more involved in the church!  We recommend that you fill out a 'Connect Card' available from the church foyer, and give this to the ministry staff, or a parish councillor. You can also contact the church office.  If you would like to offer help in some specific way, we may be able to provide training and participation in ministry programs. We especially want to help you to grow in your faith in the Lord Jesus so that you may serve him well.  
Consider joining a small group.  We have a range of small groups that meet at varying times and with varying regularity through the year, so contact the church office to find out about the options.
How can I book the church for a wedding or funeral?
Please contact the church office, and your request and information will be passed on to the Ministry staff. Our first priority is to care for those in our local area, so if there is an Anglican church closer to you, we may refer you to them for assistance.
How do I give financially?
In response to God's generosity to us, we as church members share a responsibility to give to support the cost of mission and ministries of St George's. This can be done in a number of ways.  For monetary giving, the easiest and safest way to do this is by direct deposit into the church bank account (online through internet banking):
Account Name: St George's Anglican Church
BSB Number: 032 731
Account Number: 870 225
If you have other, non-monetary gifts you wish to donate, please email the church office to advise what they are and we will let you know how best to go about donating your items.
Who should I contact for further information?
In the first instance, please contact the church office.  We will then be able to provide you with the relevant information and any other contact details you need.