Youth Ministry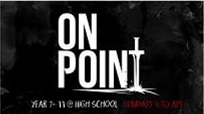 ON POINT is our youth discipleship group for those in years 8 to 12 at high school.
Sunday 9:30am:  bible study first three Sundays of the month, weeks 4 and 5 they stay in church.
Youth Band: lead the music in the church service on week four.
Additional activities include:
C

ombined youth gatherings with other churches in the Woden valley

KYCK Youth Conference

C

amp Pelican

Scripture Union camps
Soul Survivor
Our prayer is that we help high school students to further get to know God, one another and how to serve Jesus effectively in the world. We aim to serve young people with a ministry that focuses on growth in faith in Jesus through understanding the Bible, within the loving community of our church.