Youth Ministry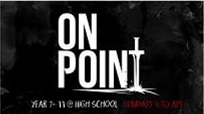 For those in years 8 to 12 at high school and College  we have  'ON POINT' , our Discipleship Group during  9.30  Church.
The group meets on the first 3 Sundays of each month.
On the 4th and 5th Sunday of the month, young people are invited to stay in the main church gatherings, and use their abilities and gifts to serve.
A number of our On Point Group are involved in the Youth Band who play in Church once a month.
We have also begun a brand new Middle School Group, called Ignite for students in Years 5 to 7 in high School! 
We have a combined youth gatherings with other Churches in the Woden Valley through out the year, We also link young people to other activites such as Camp Pelican, SU camps, Soul Survivor and attend KYCK Youth Conference in Katoomba in April each year.
Our prayer is that we help high school students to further get to know God, one another and how to serve Jesus effectively in the world. We aim to serve young people with a ministry that focuses on growth in faith in Jesus through understanding the Bible, within the loving community of our church.
Please contact the church office if you would like more information.