Pearce Playgroup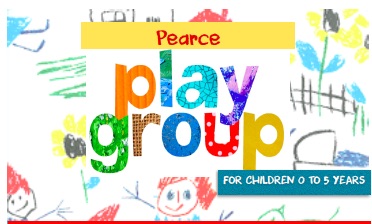 Pearce Playgroup meets at 10 am each Thursday on weeks 2 to week 9 of School Terms.  We are a friendly group of mums, dads, grandparents and carers of children aged 0 to 5 years old. New families are welcome to join us.
On a typical morning, the children enjoy free play and then morning tea, followed by a more structured time of singing, dancing, rhymes and stories on the mat. Everyone is encouraged to join in this time together. At the end of the session, we do a simple craft together. Sometimes we play games with the parachute, or enjoy bubbles and bike riding outside in our fully fenced courtyard garden.
Families are encouraged to bring a piece of fruit to share, which gets cut up for the children. Adults morning tea is provided.
Each term we have a theme such as 'People Who Help us' or 'Animals'. All the acitivtes centre around the theme for that week.
Cost is: $2 per session or $12 per term.
Pearce Playgroup is a ministry of St George's Anglican Church. Our program sometimes includes simple songs and stories that teach children about who God is.

All helpers have a WWVP Card.
Contact: meredith@stgs.org.au