Kid's Church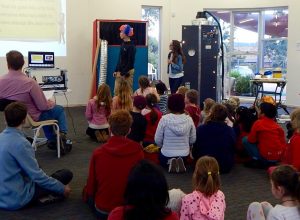 We love having Children involved in the church service.
All ages start off in the church service together to enjoy a song or two and often a children's talk up the front. We don't mind a bit of noise from the Children.
After about 10 minutes, the Children go out to the hall for more singing, a memory verse, games and an interactive Bible Story time. The children are then divided into groups for craft, more games and discussion. The teaching program for the Children usually follows the Bible talk the adults hear in Church.
Mustard Seeds
Mustard seeds is a supervised program for children aged from 3 years to Year 4 at primary school.
Ignite
Ignite is a supervised program for children in years 5 – 8.
Crèche – Crying room
A crying room is available for babies and children under the age of three that allows parents to both stay with their children and hear and see what is happening in the service.  A bathroom is located at the rear of the room for nappy changes.
SaveSave