Kid's Church
 We love to teach children about Jesus during Kid's Church on Sundays during Term time.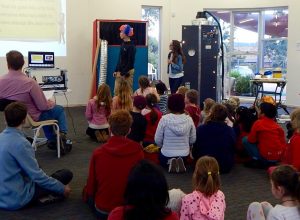 We start off as a big group in Church and then come out to the hall for songs, a memory verse, a game and a Bible Story on the same part of the Bible as the grown ups in Church.
We then divide into 2 groups for craft, more games and more discussion on the story
'Mustard Seeds' – for age 3 to Year 4 at School 
'Ignite'  for Middle School Students in years 5 -8
 A parents creche/crying room is connected to the church building and is available for newborns to age 3. This room has a large window and a sound system so parents can look into the auditorium and listen to the service.
Please contact the church office if you would like more information.
SaveSave