Pearce Playgroup is up and running!
A welcoming and friendly group of Mums, Dads and Grandparents meets THursdays at 10 am, in weeks 2 to 9 of School Terms. There is free play, followed by morning tea ( bring a piece of fruit for the children to share) then music, songs, rhymes and a story of the mat, followed by a craft. In Term 3, the theme is Transport and each week a different type of transport is featured in the songs, toys and craft. Come join in the fun! 10 am Thursdays.
Kid's Church
Children have a special place in the heart of God. At St George's we seek to care for the spiritual needs of children. A team of parents and helpers teach children about Jesus, in view of God's love and promises in the big story of the Bible. We seek to be a community that models to them how to follow Jesus in the world.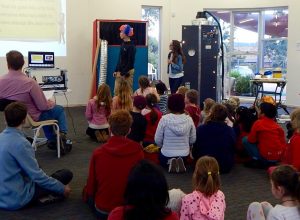 Kid's Church is on Sundays at 9.30 am, with two age groups:
'Mustard Seeds' – Younger group (age 3 to Year 2 at School)
'Pathfinders' – Older group (Year 3 to Year 6 at School)
Children begin by participating in the church service with their parents, and then move to the hall for Kid's Church. On some Sundays, the children may later return to the adult gathering to join in the end of the service. This can include participating in Holy Communion if they are with their parents and the children have a clear understanding what communion means. Young children may come forward to receive a sticker at communion time.
A parents creche/crying room is connected to the church building and is available for newborns to age 3. This room has a large window and a sound system so parents can look into the auditorium and listen to the service.
Please contact the church office if you would like more information.
SaveSave